Can you paddle a kayak the entire length of the Yarra River? Almost.
I have seen the sunrise where this river begins and the reflection of the moon where it ends. I have seen water change from tasty and transparent to briny and brown. I have seen five days and nights come and go on a journey from just beyond Warburton to just short of Williamstown, from the bush to the bay, following the Yarra River from source to sea (sort of), to see what I could see and what I might learn.
I have stared at the undersides of stone bridges, steel bridges, wooden bridges and rope bridges – at suspension, beam, road, rail and foot bridges. I have passed by pumping stations and billabongs, pubs and golf clubs, mansions and shacks. I have heard too many times to count, "Ya shoulda been 'ere last week", when the floodwater from distant tributaries consumed tunnels, covered paddocks and overfilled everything around this narrow ancient gash in the land.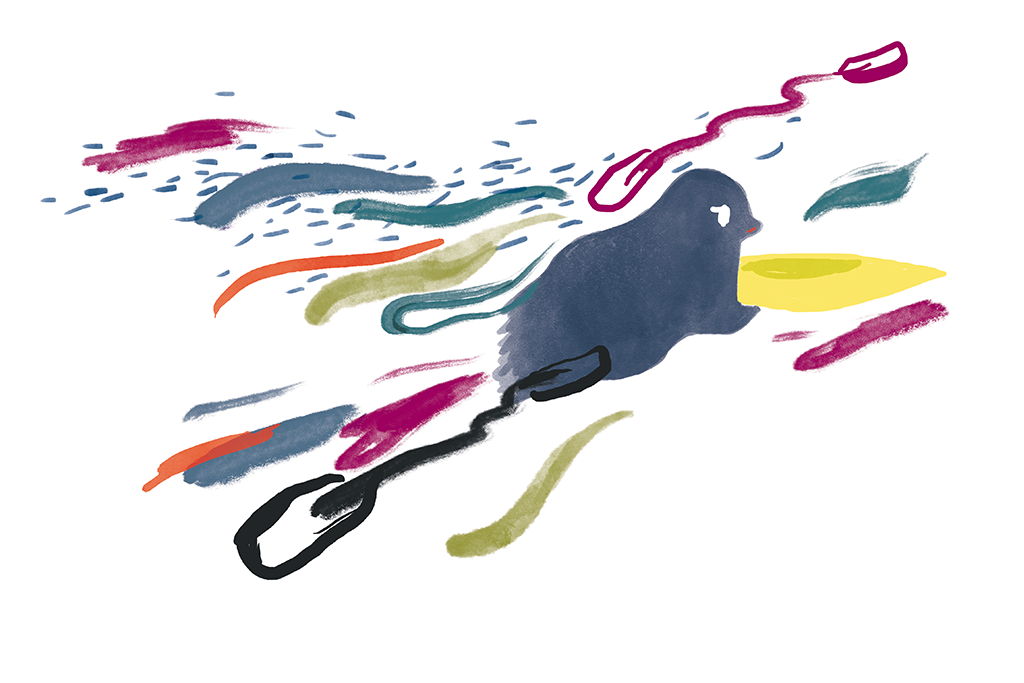 I have caught fleeting glimpses of platypus and freshwater crayfish. I have smelt the swollen carcass of a wombat, choked by invasive blackberry bushes, dead in the mud next to a pile of plastic litter. I have sat spellbound, staring at the comically ropey neck and long surging bill of the water bird known as the darter. And I have gazed up at Bunjil, the great wedge-tailed eagle that the Wurundjeri call the creator, wheeling on a wind above the river known to them as the Birrarung.
I have mastered the art of escaping a kayak upside down. I have learned when to paddle in feathery, balancing strokes, and when to dig hard. I have learned how to pick the right line – how to identify and approach the arrowhead of glassy water where you should enter any rapid. And I have felt the dark progression of my constant week-long fear, from the lurking threat of each impending trial to the immediate and white-knuckled menace of a final hurdle that once killed a man.
I have both succumbed to and overcome physical, mental and emotional exhaustion. I have come to love the way hot water feels as it streams from campground shower heads after dark.
And I have come to loathe the taste of Just Right with skim milk from a steel camping bowl at dawn, like this morning in late spring, as a light rain soaks my already-wet campsite 80 kilometres from Melbourne, as I take deep, shaky breaths of cold mountain air at the beginning of a week that should fill me with a sense of adventure but which instead leaves me cold, my anticipation now nothing more than a sense of nervous, curious dread.
---
Day 1: DREAD
We stand in an ankle-deep plateau of freezing water,looking up at a corrugated pipe in a gigantic rock wall. Exactly 10 megalitres of water (about four Olympic swimming pools' worth) comes spilling out of that pipe everyday, but that's nothing compared to what lies behind the 100-metre high dam above. This is where we begin to follow the river, but it is not where the river starts. I'm at the bottom of the Upper Yarra Storage Reservoir in Reefton, which supplies most of Melbourne's drinking water and also serves as the most visible barrier to a place you and I will never see: the catchment area –33,000 hectares of strictly off-limits wilderness. About 30 kilometres of unsullied Yarra lies in there, but I have to start my trip down here in this stingy,shallow stream flowing from a spigot –a clean trickle that becomes a massive murky snake on its 200-kilometre journey to the sea.
For about the first two hours, you marvel at the untamed nature of nature, the way a dark, forested gully seems like the kind of setting from which a triceratops might emerge. But it wears off, and being here wears you down, at least it does when you're dragging a kayak along what amounts to an unending path of stagnant stony pools and waist-deep mud, through sphagnum bog and swordgrass, ribbons of rotting bark sinking at your feet. Sometimes the boat floats with you like a playful, bridled horse. Other times, dragging it over obstacles, it seems more like a dead cow (which, incidentally, I come across after lunch, wrapped around a branch, fouling up the river). Fallen trees are my enemy today, too.
The first one I climb over seems like a minor interruption – an exception. But these snags are everywhere. It seems like they shouldn't be, but the decaying debris is actually wonderfully healthy for the river. Snags lock up pools of water, creating calm nooks that ensure habitats for everything from tadpoles to darting little blackfish. They also hurt. I can't begin to describe the anger that wells up inside you as yet another pointy stick scrapes against some unlikely part of the body, like the back of your wrist or across your bottom lip. Myrtle beech, sassafras, wattle, stringy bark, grey gum and mountain ash have fallen at such a rate that it is not at all an exaggeration to say that I climb over, under, around or through somewhere between 500 and 1000 trees before nightfall.
I balance on a soft, rotten branch – it snaps and sends me into a pool of mud a metre below. I climb under a hard, slippery limb – an inch-long splinter breaks off in the meat of my right palm. I watch my warm blood drip into the freezing river, mesmerised and livid. I have no one to blame but myself, of course. Robert Hoddle tried to survey the river in the 1840s, and it took him five months. I knew this going in, but I didn't know my first day would be 12 hours long. That it would start in darkness and end in darkness, and that I would only travel 10 kilometres, barely paddling once. I want to quit right now, but I turn to my guide, hoping to settle for reassurance.
"So this was the hardest day, right?" "Oh, probably," he says. "Yeah. Maybe."
---
Day 2: REGRET
My guide never falls out of his boat. Not once. Ian Neville and his boat are as one. His very size and shape seem like a conscious decision, as if he built a body with short legs, a long trunk and a wide back for the purpose of powering through H2O. He knows one rapid from the next. He can distinguish between the blue of the kingfisher breast and the superb fairy wren. And he is one of a handful of people known to have paddled the Yarra from start to finish. He is making the trip again to film and photograph river infrastructure for Parks Victoria, but agrees to let me tag along.
I need him. I need him to stop me from ineffectually swatting at the water instead of pulling myself through it. I need him to shame me out of complaining, as I change back into underwear still wet from the river yesterday, as I put on my damp thermal top, sopping wetsuit, wet booties, wet "dry top", wet helmet and soaking wet lifejacket. I need him because he has a friend named Celeste Pryke who dutifully drives as we paddle, following us for the entire trip in a 4WD support vehicle, making our lunches, drying our tents and meeting us at every bridge and billabong. Neville also forces me to follow the original course of the river,which today means lugging the kayak through a one-kilometre loop of fetid swamp instead of going through Big Peninsula Tunnel – a 25-metre hole in a hill, blasted by miners seeking the alluvial gold that would remain in the riverbed after the diversion. We do something similar at Little Peninsula Tunnel, a little farther down. But there is still one more tunnel to negotiate on this week-long trip – the longest of the three – and I'm already questioning whether I'll have the guts to go through it.
We're paddling properly for the first time now, even if only enough to experience that initial mix of fear and fun as the water pushes and pulls, dragging and sucking the kayak toward dangers seen and unseen. This is where we begin to experience "portages". A portage sounds benign enough: repositioning your boat down river and starting again. But what it means in this context is being blocked by some gigantic fallen mountain ash, sliding out of the kayak into chest deep water, then scrambling up a steep, slippery riverbank (or falling back in), trying to drag the kayak along as much as 100 metres of the shore (essentially bush-bashing), before finding a spot to slide back in. One portage can take 20 minutes or more. Now imagine performing that same manoeuvre a few dozen times in an afternoon, when you're cold, wet and tired. Portages rob you of energy you badly need, which is where Neville's strength really shines.
While I try to navigate minor rapids with manic desperation, he floats down them backwards, talking me through each move. The man only recently overcame a bout of pneumonia for which he was hospitalised, so he should be at his weakest right now, but to me he seems superhuman, like some indefatigable pack mule …with horsepower. He is a man's man. I am a momma's boy. Nowhere is this more apparent than at the pub in Warburton that night. He cleans his plate and I can barely get through half a parma. Then a blonde woman approaches our table, hands him a scrap of paper ("This is for you") and walks away.
He unfolds it, looking a little perplexed: Amanda 0450081XXX
He stares at the name and number, which seems to be written on a discarded copy of my receipt. "This must be for you," he says, but we both know it's a lie. Amanda – all forthright manner, confident stride, two bottles of white wine in a bag slung on her arm – is a grown-up. She's a woman. She was drawn to the only man at the table.
---
Day 3: DESPAIR
The bottom of the kayak scrapes on shallow gravel races, its sides caroming from one rock to the next. I'm thrown down chutes and battle gamely against the current with no grace, but some effect. With a little confidence and alot of vigour, I find my way through the worst of each rugged run until I'm drifting aimlessly by tall fern fronds, waving at dog walkers and bike-riders, admiring the homes perched in the treetops like grown-up cubbyhouses. I see the first signs of industry here, from the shops in Warburton to the old sawmills farther downstream at Millgrove. Willows.
At first, they look innocuous – a bright blast of light green – but give them a riverbank and they'll take a river, their branches spanning the entire surface in some places. Navigating a stretch of willow-infested river is treacherous at best, requiring the ability to stop, back paddle and turn. It doesn't sound hard, but imagine doing this in a constrained space, when the river narrows and the water rushes around tight corners and all the current wants to do is push and pull you into these strainers. The river here also begins snaking, little eddies spinning the rear of the boat away, tipping me sideways.
I capsize more than a dozen times – each time an ordeal. You're underwater in one breath, and need to rip your sprayskirt free, then shimmy out, extricating yourself from unseen branches and the silent push of the water.
You "swim" to shore, one arm holding the boat and paddle, one arm slapping at the water with futile side strokes. You reach the bank and turn the boat over to empty it of the litres of water that have poured in. Then you try to get back in and do it all again, despite the fact that you are already waterlogged, soul-sapped, bruised and cut, the skin of your palms rubbed raw by the constant turn of the paddle. Dodging willow branches, therefore, demands concentration, improvisation and care. One story has it that these willows originated from a cutting taken from Napoleon's grave site on the island of St Helena.
They do seem to have a noble bearing, but they're classified as a weed of national significance. Willows kill natural habitats, drink too much water,and multiply too readily. Their beautiful billowing branches are basically bony, grasping fingers slowly strangling the river,although right now I'm more worried about them strangling me. We end the day at Launching Place, and I concede the river is beating me. We decide to skip a section of Acheron Plateau farmland near Woori Yallock, and camp in Healesville near Coranderrk, on the shores of Badger Creek. I persuade my wife to drive out to see me with a bigger tent and a blow-up mattress. She also brings a laptop, a Sopranos DVD, salt and vinegar chips, dry underwear, dry towels. A little comfort and a little confidence. I need it. Earlier, I used my first mobile phone reception in three days to send a message to the office:
"My muscles are shot. My mind is going to pieces. I'm cut, bruised, waterlogged and bloody cold …No joke, this is the most trying ordeal of my short life. Puntin' on the Thames, it ain't."
---
Day 4: STRUGGLE
We begin the morning surging under the bridge that carries the Melba Highway into Yarra Glen, hoping to reach Warrandyte by nightfall. I paddle with purpose, head up, shoulders back, smiling, jabbering and suddenly realising what sullen, shell-shocked company I've been. "It's amazing how much of this journey is a mental battle," I venture. "Penleigh Boyd grew up around here," I add. "He was one of the first artists to paint the riverscape as it was and not how he wished it to be… This is nice …I think I'm getting the hang of this." We travel maybe 100 metres before I fall in for the first time and that's it. My body is wet and my spirit dampened. I'm back to being lousy, unsmiling company. My shoulders and triceps become belligerent and uncooperative. But the afternoon brings with it renewed hope.
Willows give way to gums, and the river becomes wider and slow-moving. We paddle for hours over still water, past golf clubs and hobby farms. Almost as suddenly, the slopes steepen and rise on either side. The sun shines for the first time (all week) as we begin our run through the stunning cavity of Yering Gorge towards the main rapids of the river, where the now expansive flow is shoved into thin and zig-zagging grooves – a flurry of white water splashing over sandstone formations as it picks up volume and speed. I manage the tumult well during all tests but one: Bob's Rock.
Neville scoots over with aplomb first, riding the contours like a slalom skier. Then it's my turn to look into Bob's eyes. Trouble is, Bob hides. You can't see Bob until you're almost on top of him, which is basically where I land, slung off his left shoulder and slammed sideways into the water. For what seems like an eternity, I hold my breath and grasp for the spray skirt, panicking like a Top Gun pilot trying to reach the eject button; a skydiver searching for the ripcord. I get to shore and flop down in a sputtering heap. Neville argues why I should stand up and use a well-worn path through the scrub to re-enter the water upstream and face Bob again.
We'll be comfortable soon, anyway, camping down the road in Warrandyte on the lawn of the Yarra river keeper Ian Penrose, learning a bit about the natural wonder he devotes himself to daily. I've spoken before with Penrose, a 61-year-old advocate and educator who spent the bulk of his career at an oil company, but is now a tree-changer in a mud-brick house, sharing an environmental message centred on the river's pressing problems, mainly the way 75 per cent of the Yarra's water is diverted to quench Melbourne's thirst, grow its gardens and wash its inhabitants. Penrose tells me that until 8000 years ago the mouth of the river was the heads of Port Phillip Bay, that the river is older than Australia, perhaps as old as Gondwanaland. In that context, a feature like Bob's Rock seems transient. I'd better best him now. Back on the river, I re-enter the fray and line up a new run. The water drags me towards Bob as if caught in a tractor beam. I scream "No" in a voice equal parts pleading and defiant.
Somehow, with an ungainly rollicking bounce or two, I stick the landing. Bob is a bastard, but I just made him my bitch. Say my name, Bob.
---
Day 5: DARKNESS
I don't know if I can do this. I'm staring into the eye of Pound Bend Tunnel, a craggy 145 metre waterway blasted through a hill. There's a tiny window of light at the other end (six metres wide and shallower than that),and a silhouette moving his arms. I wish Neville was warning me away, but he's waving me through. Three birds fly in first, as if to lead the way. I follow and the current immediately shoves me into a jagged outcrop of rock, my nose wedged into a crevice, the kayak about to flip. This is not good. I remember that a man was swept into the tunnel and drowned in here a few years ago, and begin smashing my plastic paddle against the wall in a frenzy. I look petrified, but no one can see. I look petrified, but no one can see. I can't even see my hands, so I simply buck and wail and grit my teeth through a few more blind collisions.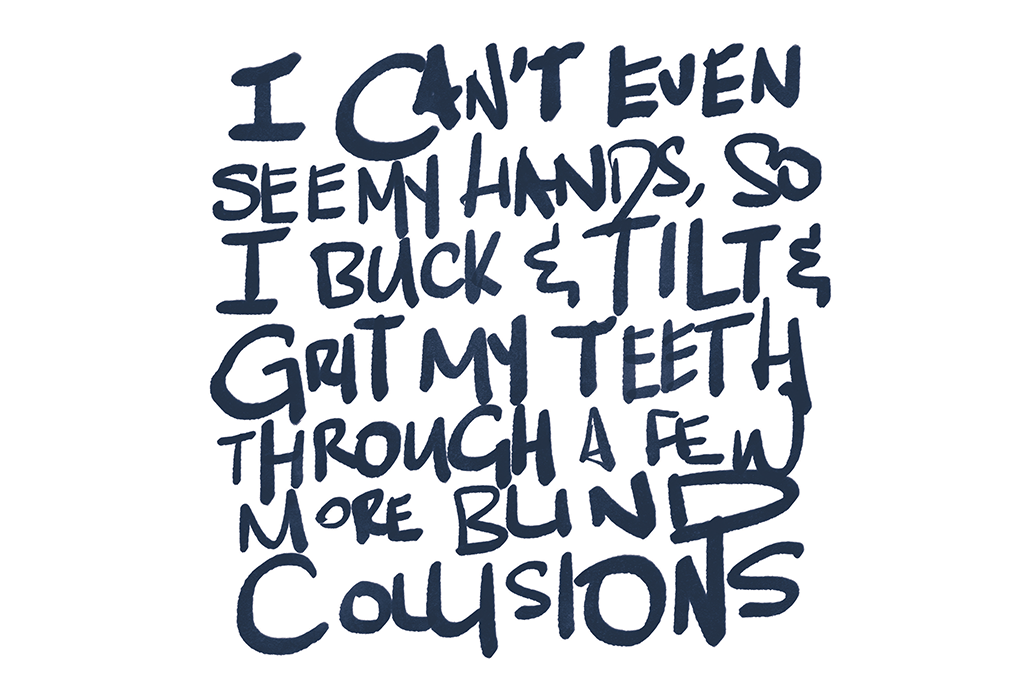 I head into the sunlight after what seems like an eternity but is probably a few moments, and exit directly into a chicane of whitewater rushing over a rocky slab. I lean into it but it knocks me down. I use hand and elbow to remain upright, and the blows sting, but I'm out and mostly dry when someone yells, "Way to go, Solo man!" Later in the day, wide flat water finally beckons and we paddle steadily down the Yarra River of Melbourne's postcards, past the bygone struggle towns of Richmond, Abbotsford and Burnley, built on the flat laval plains north of the river. On the other side, the grand estates of Kew, Hawthorn and Toorak sit high on the hill, the perfect vantage point for wealthy industrialists to watch their workers. I begin to recognise the river, from an oval I played footy on to the spot near my high school where, on muck-up day, we threw Mark Freeman into the river.
We enter the city at dusk, the Friday night six o'clock swill in full effect, and sneak silently by the boisterous conviviality of riverside bars. People see us from boardwalks and footbridges and seem to catch themselves for a moment, not exactly sure that theycould be seeing a pair of dishevelled guys with LED torches strapped to their banged-up touring kayaks. It should be a time to rejoice, but every section of the river now seems mammoth and outsized. At the base of the BolteBridge, a family is doing a spot of night fishing, but I'm too focused on the finish to ask if the bream are biting.
The West Gate Bridge looks mighty, but I float under in silence, too concerned by the gargantuan hulls of freighter ships to speak. The grim landscape of cranes and cargo loaders and inlets seems so far removed from the long gone West Melbourne lagoon that was once described as an expanse of intensely clear blue saltwater, fringed by pigface that made the place seem "as though girdled about with a belt of magenta fire". No, all I can see are the flashing red lights of the channel markers, blinking a hypnotic blood-red reflection on the black night water.
I wanted this trip to be my own Apocalypse Now – to take a leaf out of Joseph Conrad's book Heart of Darkness, and use a single voyage to learn something about a river, a people and a person.
Odd to think that the famous author has been on the very water I now paddle. Before he explored the Belgian Congo, the Polish seaman captained a cargo ship that came here in the late 1880s, after working on the Australian coast. Perhaps he even gazed on Newport Park, which I now approach.
Welcomed ashore by a pair of black swans, I step onto the floating dock and stand with my back to Newport Power Station, looking east across the water to the city, thinking about the week that was. The river is to my left. The bay is to my right. A full moon hangs above the Rialto in the distance. I can do nothing now but sigh, and shiver, thinking of the darkness of the trip while staring at the glowing light of this city, reflected in its river.
---
This feature first appeared in The (Melbourne) Magazine on November 26, 2010. (Konrad has not kayaked since. Nor will he.)